Meridian Travel Club Marketing Department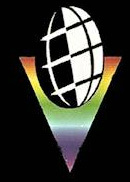 Meridian Travel Club Logo
Meridian Travel Club is using the highest quality and assurance marketing systems and methods as Meridian Travel Club having long term international experience in Marketing and some of its Managers joined more than 30 Marketing Seminars and Diploma's from the best Marketing Institutes worldwide on yearly bases besides the Customer Service, Customer Support and Quality Assurance systems.
What are the Benefits using Meridian Travel Club as your private travel agent ?
Here is Meridian Travel Club Benefits Menu for our guests and clients:
1- The Loyalty Program: either Business or Leisure Traveller
2- Business Travellers Contracts and their Special Codes to have their special rates.
3- Leisure Travellers belonging to the Business Companies Contracts Leisure Holidays Voucher Codes for them and their Families and Friends.
4- Leisure Travellers benefit in the same year from Fly one time with the Full Amount, and the Second Tour or Holiday with 8% discounted price.
5- City hoppers, Leisure travellers who likes to fly more than 6 times per year to nearby cities and city breaks, First Booking Full Price, after that 5% discount for 3 tours or city trips in the same year, if more then you will get 8% discounts on each extra reservation you make.
6- Early Bird Discount, Book at least 3 months before your Holiday and get 7% discount, if booking 5 months before
then you get 9% Discount
Our Standard Marketing system:
For Business Travellers, they will normally get special rates and discounts on their flights, Hotels and Car Hire, Limousines with Chauffeurs either from 08:00 am until 20:00 pm or if they which we have contract rates for 8, 12, 14 hours service per day, for business travellers they will always having contracts with specific discounted rates depends on how many trips

For Business Travelers, they will earn the Free Card of the Frequent Loyalty Programs and earn free points.
For Business Travelers, they will have 8% discount on any leisure tour or for themselves and their Family and Friends, and up to 10% discount on any side trip attached to the Business Travel Trip they book.
In-case of MICE coordination, Meridian Travel Club will coordinate the tour, Meetings, Conferences, Exhibitions and Intensives either abroad or within the Domestic Market as we will always offer three (3) different tours, mainly for intensives, two (2) Abroad and one domestic options.
For Leisure Travelers, 5% discount on any early Bird reservation that is at least 90 days before departure.
For Leisure Traveler, will earn free Frequent Loyalty Program points on each trip they reserve. (we will explain the Frequent Loyalty Program)
If our Leisure Travelers are flying more than 2 times per year, then after the first two (2) fully Paid tours, they will receive 7.5% discount on each package they book till the end of the same year.

If Leisure Traveler signs on booking 4 trips or more per year, then he /she will be qualified for 5% discount on each reservation for the whole year
---
Same as Airlines Frequent Flyers programs but more Generous

What About Meridian Travel Club Loyalty Program System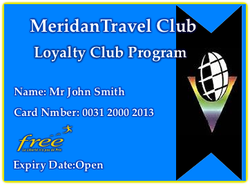 You will not believe it when you read it, we do give 3 points for each GBP. £ 1.00 Pound if you book Luxury Tours, 2 points for each first class per each GBP £ 1.00 Pound you spend on each tour, and for standard or even budget tours we give 1 point per each GBP £ spend on the tours only excluding the Airport and Flight Taxes, and see what, you can start redeem your points once you reach 25,000 points only as example 3 nights 3 star hotel room in any European city Based on Bed and Breakfast for two persons, excluding the flights If it is 40,000 then flights will be Included, if you want to upgrade to 4 stars you pay only GBP £ 50.00 per person, If you reached 70000 points, you will have 7 nights in 4 stars Beach Resort for 2 persons Including flights. what more you need, you can also use miles and money plus Our Points Never Expires. there will be much more offers once we start operating.
1- What is Excluded from the pints
Airport & Airlines Taxes and Extra charges
Tips, Meals, souvenirs, and private spending's

Travel Insurance

as example: you flow with your family to Malaysia for 12 nights / 14 days in a four stars (First Class tour 3 nights Kuala Lumpur + 9 nights Hard Rock Cafe in Penang Beach Resort
the total cost of the tour inclusive of
Hereby sort of the way you can redeem your
---